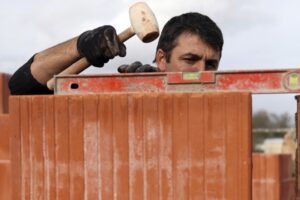 Two of the UK's largest brick and concrete product manufacturers are planning to cut as many as a combined 600 jobs amid plunging demand.
Ibstock has begun consultations that could see 375 of its staff go, representing around 15 per cent of the company's total workforce. Competitor Forterra is looking at cutting around 225 jobs, manly in its concrete product manufacturing division as it plans to mothball a pre-cast concrete facility in Derbyshire. The cuts were announced in trading updates from the two listed companies this morning which revealed how demand collapsed following COVID-19 shut downs.
Brick sales at Ibstock plummeted 90 per cent during April after the company shut many of its production sites for a month. The return to work in recent weeks has seen a partial recovery, but the company said sales were still around 70 per cent lower than last May. Its concrete products division has been similarly hit with sales around half what they were for the same period in 2019. The collapse in sales saw revenue drop in April and May to around a quarter of what the company had taken in the same period a year earlier.
Forterra's sales have also been hit hard with brick and concrete block sales around half of what they were for the same period in 2019. Revenue for the five months ending 31 May is down almost 40 per cent on last year. The firm suspended all its operations after the lockdown began.
The collapse in sales is reflected in new data from the Office of National Statistics which revealed an 86 per cent year-on-year fall in brick deliveries in April and an 82 per cent fall in concrete block deliveries.
Forterra also revealed this morning that it had been accepted onto the Bank of England's Covid Corporate Finance Facility and will be able to issue up to £175m of short term debt if it needs extra funds. Ibstock has also been accepted onto the facility but did not reveal what its debt issuing limit is. The firm, which was floated in 2015 after it was briefly owned by private equity firm Bain Capital, has got it lenders to agree to change its lending covenants. This will allow the company run with higher levels of debt and lower levels of profit to cover interest payments.