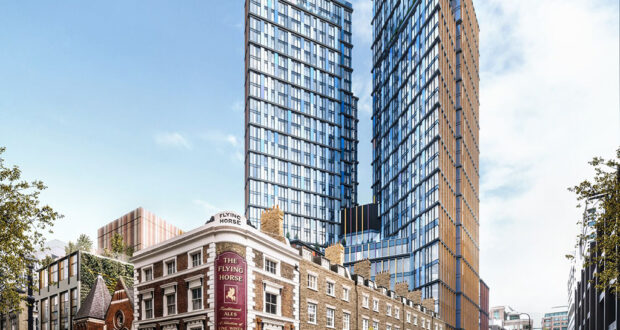 Revenue for concrete and groundwork specialist Getjar jumped 30 per cent in 2019.
Strong demand in London helped the firm's turnover increase from £107m to £138.2m in the year to 31 August 2019. Major projects it worked on included Crown Place (pictured) for Mace, worth £23m to Getjar, and the London School of Economics' Marshall Building, also for Mace.
Pre-tax profit increased almost 20 per cent to £5.9m, up from £4.9m in 2018.
The company warned that the strong performance in 2019 would not be repeated in 2020. Costs had been rising while competition for work was also increasing, forcing down prices in 2019. The impact of COVID-19 on the company, which is heavily London-based, had "significantly" reduced its activity so far this year.
Chairman and founder Michael Masterson said turnover and profit for the business would fall in 2020. He added that the company had a "strong and liquid" balance sheet, which would benefit the business in an uncertain market. Getjar ended the year with cash reserves of £18.6m, virtually unchanged from the end of 2018.
Getjar's parent company, Masterson Holdings, which also owns joinery specialist Atlantic Contracts and plant-hire business Glencoe, reported cash reserves of £52m for 2019. Neither Masterson or its subsidiaries carry any bank debt.
Masterson's shareholders, which are primarily Michael Masterson and his family, enjoyed a £4m dividend from the company's post-tax profit of £10.9m, which was up from £7.3m in 2018. Revenue for the group increased from £149.2m to £169.4m.