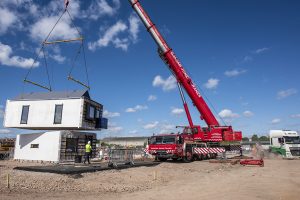 The West Midlands Combined Authority plans to insist that developers use offsite construction on some projects in the region.
Speaking to Construction News, combined authority housing lead Mike Bird said he believes the speed of offsite delivery outweighs what he described as its higher cost.
"The idea is we encourage people to use these modern methods of construction (MMC)," he said. "Probably most times it's more expensive than the traditional build, but you have speed on your side, you haven't got to worry about the elements outside, you get a product that is energy efficient. [This] allows you to charge a little bit more rent, because the people know the money isn't going on fuel bills."
Bird, who is also leader of Walsall Council and a four-decade local government veteran, is part of the region's Advanced Manufacture in Construction advisory group, led by Mark Farmer, designed to encourage MMC use in the West Midlands. He said the investment in modern methods of construction by the combined authority will also act as a tool to incentivise developers to regenerate areas.
"These are normally regeneration projects; areas that have suffered from decline. As a result, these modern methods of construction allow us to get developers and hold their hand [to develop] land that, perhaps, was less expensive than they would normally buy."
Bird cited the example of Urban Splash's redevelopment of the Icknield Port area of Birmingham City Centre.
"We've invested heavily with [Urban Splash] in what we call the Icknield Port Loop. And [it is] doing some fantastic work, when you walk through that estate you would never know [it was built offsite]. Icknield Port used to be like Beirut on a good day, but it's transformed the area completely. I was gobsmacked [with] the quality of finishing, bearing in mind all this comes in pods. You've got the bathroom pods, you've got the kitchen pods, you've got de-mountable walls, and all that can be bespoke to the customer."
The councillor added that the combined authority was prepared to make significant investments with developer's projects if they committed to MMC and were willing to build on some of the region's old industrial land.
"In the Black Country where if you put a spade in the ground, you never know what you're going to get because of the industrial heritage that we have. So what we are doing as a combined authority [is] holding the developers hand and saying [and] look, we realise it is contaminated land, however, we are prepared to throw x thousands or x millions to enable you to achieve the profit you want. But the proviso is: we expect you to utilise modern methods of construction for the benefit of us investing in you.
"That's why we have perhaps a bit of a lever [and we are] saying 'we'll invest in you, but we expect you to have a control over the product that we want to see", which is modern methods of construction."