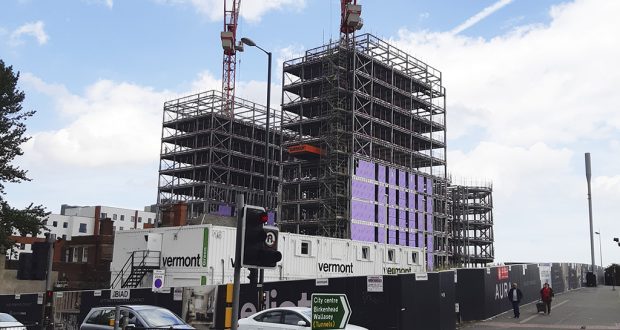 The stalled £100m Aura project in Liverpool, put into administration in March following the arrest of the developer's founder, is set to be handed back to its investors.
The consortium will take over the student accommodation development after final sign-off is agreed by all parties and legally approved.
The project, which was due to complete in September this year, came to a standstill in January when contractor Vermont stepped back following the arrest of Elliot Lawless in December, the founder of developer Elliot Group.
In March, the development became one of three schemes by Elliot Group to be put into administration as Vermont withdrew entirely. The Aura project previously stalled when its original contractor Forrest encountered financial difficulties in 2018 and later fell into administration.
In a statement, Elliot Lawless said he is hopeful of reaching a similar agreement for the first phase of the £250m Infinity Waters scheme in Liverpool and the mixed-use development known as The Residence in Manchester, the other two projects in administration. Lawless said: "I want to ensure investors' money is protected and that we can complete the projects without further delay."
Administrator David Rubin & Partners handled the disposal of the project. A statement from joint administrators Paul Cooper and David Rubin said: "This was a complicated procedure, which could not have been resolved without the collective buy-in and efforts of the Elliot Group and the investor consortium. Our team has worked hard to get to this positive outcome, and we wish the new investment consortium well as they move to finalise this highly attractive scheme."
The administrators will now seek approval of the deal by application to court under the Insolvency Act.