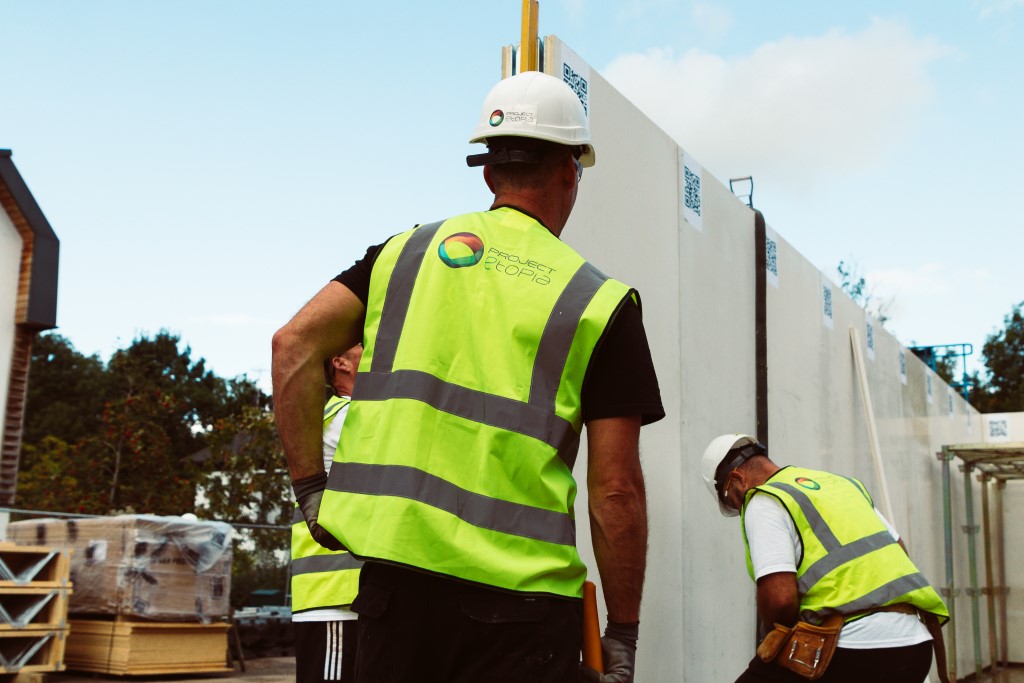 Modular housing start-up Etopia Group has had its offsite approach to housebuilding certified as carbon neutral.
The housebuilder partnered with non-profit organisation One Carbon World to assess the environmental impact of its approach, with unavoidable emissions offset in order to achieve full carbon neutrality. As a result, it has been awarded One Carbon World's 'Carbon Neutral International Standard' kitemark.
The certification is based on the United Nation's definition of climate neutrality, set out in the UN Climate Neutral Now initiative. The initiative is a voluntary commitment that Etopia has also formally adopted. The scheme invites organisations to follow a three-step process of measurement, reduction and offsetting to reach neutrality. Offsetting is done through projects recognised by the UN Climate Change organisation.
Etopia said it is the first housebuilder in the world to sign up to the UN initiative and also achieve carbon-neutral certification, with offsetting via reforestation projects supported by One Carbon World.
In accordance with the UN initiative, Etopia said it has calculated and disclosed its current carbon footprint, including energy and water usage, materials use and waste generation, and international air travel. It said it has also set out a "clear pathway" to achieve year-on-year reductions in its impact.
The group said the homes it assembles from large, modular panels have an average EPC rating of 103/100, with the best it has built to date at its 47-home pilot project in Corby achieving 105/100. It added that these scores mean its homes are "carbon negative" as a result of renewable energy generation beyond the needs of the house itself.
Etopia said it currently has the capacity to manufacture components for more than 2,000 homes a year at its Cheshire-based factory.
Etopia founder and chief executive Joseph Daniels said damage to the environment will be irreversible unless positive action is taken by more firms. "The construction industry needs to be dragged forward into the 21st century and bring innovative technologies into both the methods of construction and the homes themselves. Our decisions are not an attempt to greenwash our image, it is about genuinely revolutionising the industry, and creating the high-quality, tech-driven net-zero homes of the future."
Niclas Svenningsen, manager of global climate action at UN Climate Change, said the built environment accounts for an estimated 40 per cent of UK CO2 emissions and that "a backwards approach to housebuilding [has] been far too common". He added: "If we are to radically reduce our carbon emissions, then we must look to innovate. We are glad to see Etopia Group applying new ways of thinking and building more sustainable homes, and welcome them to our Climate Neutral Now initiative, hoping that others will follow their example."
In related news, the UK Green Building Council (UKGBC) has called for firms to adopt the WorldGBC's Net Zero Carbon Buildings Commitment, pledging to both occupy and develop buildings that operate with net-zero carbon emissions by 2030. For construction firms, it "means committing to deliver buildings that are highly energy efficient and can be fully-powered by renewable energy by 2030," said UKGBC chief executive Julie Hirigoyen.
She urged all of UKGBC's 450-plus member organisations to endorse the commitment. Current members include Bam, Barrett, ISG, Laing O'Rourke, Morgan Sindall, Multiplex, Osborne, Skanska and Willmott Dixon, among others.