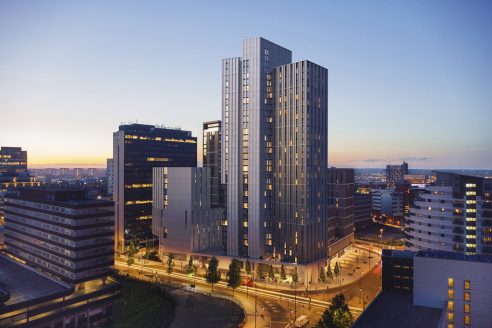 McAleer & Rushe has won a £68m contract to deliver the first phase of the Exchange Square 2 scheme in Birmingham.
Developer Nikal has appointed the firm to deliver the 37-storey residential tower and half acre of public square opposite the future HS2 Curzon Street station in the centre of the city.
The developer said it has been speaking to the Northern Irish contractor about other projects it has in its pipeline after meeting its representatives at last year's MIPIM property conference in France. At the time of the event, Construction News reported that Birmingham was cited by attendees as a major area of opportunity.
McAleer & Rushe commercial director Emmett McGinley said: "Using our expertise in the residential and BTR [build-to-rent] sectors, we will be implementing modern methods of construction to complete the tower building, paving the way for the successful and sustainable delivery of the project for all stakeholders involved and much needed homes in the area."
Work on phase one is scheduled for completion in the summer of 2023.
The second phase of the scheme will see a 15-storey Premier Inn hotel, restaurant, shops and car parks built. The overall development is worth £120m in total.
Exchange Square 2 forms part of the developer's Masshouse project which has seen it redevelop a number of sites in the city following the removal of the city's Masshouse Circus ring road in 2002.